Anyone who owns an aircraft knows the investment that comes with that type of purchase. More than just buying the actual aircraft are all the accompanying costs and duties associated, which can definitely stack up if you aren't planning properly during your ownership. Some people don't realize that they can actually come out in a better monetary position after making such an investment if they utilize professional services instead of going at it alone. There are some major draws to renting a private, local airplane hangar in Las Vegas for your precious investment - including a better long-term return if monitored correctly. At Cheyenne Air Center, we offer the best private aircraft hangars in North Las Vegas and the surrounding areas at a convenient, local location to easily visit.
 
Amenities and Convenience
With the expanse of the desert surrounding the Las Vegas valley, there are residents who have the space needed on their property to house something as large as an aircraft. Some people might think that it is more cost-effective to build or purchase a structure to store their aircraft in on their property and keep things close to home. But what these folks are not considering is the maintenance costs, facility features, and travel/transport time and costs associated with this type of setup. If you rent a private hangar at a commercial space, you have all the amenities they offer with attention to detail for you - as you are the customer. You can enjoy access to cleaning supplies, plenty of space for any associated maintenance tasks (they can be numerous), as well as the convenience of driving that aircraft right out the hangar door and onto the tarmac. Your own personal storage space for an aircraft will likely not have the hookups for visibility, fuel, maintenance, and certainly no tarmac or runway for easy take-off.
 
Reliable Service
Another aspect of a private hangar rental is that it is operated by a professional staff. At Cheyenne Air Center, you have access to features that you might not have otherwise at a personal hangar space or another type of storage facility. Part appeal is the experience of the staff on-site. If you are a frequent traveler or store your aircraft in a hangar outside of your home city, it can definitely provide some peace of mind knowing there are experienced professionals who can assist in answering questions or providing any amenities like fuel - one of our fuel specialists can provide service for your aircraft while you're in our facility.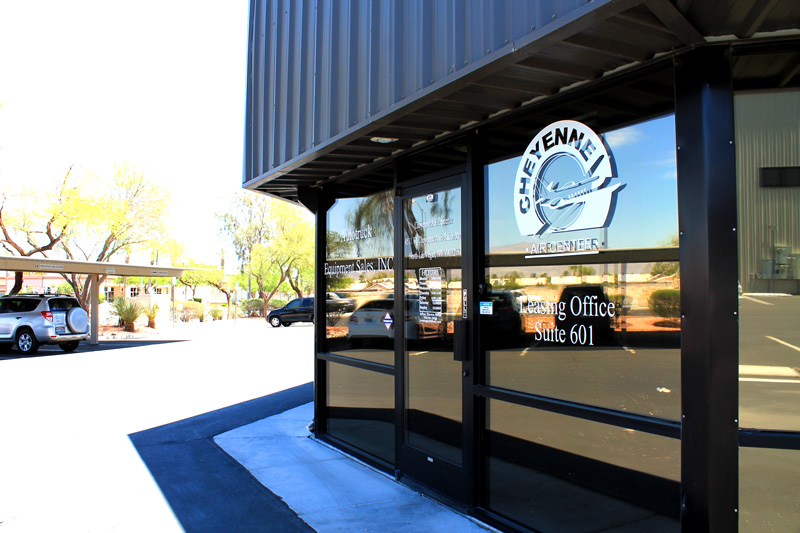 Ease in Storage
One major thing to consider when planning whether to rent your hangar space locally or somewhere else in the country is thinking about where you most often fly out or in to/from. Even if you main residence is in Southern California, for instance, you might save a lot long-term by keeping your aircraft at our facility in North Las Vegas, as the space is much more expansive and less likely to be fully occupied on your trips in or out of Las Vegas for business. As an easy place to get to or from, Las Vegas is an affordable trip for most, and if you are also saving money by keeping your aircraft there, you'll be affording yourself more flexibility. If you often fly in at odd times or popular times, Cheyenne Air Center is a good choice to ensure your hangar is readily available for you when you arrive and there is plenty of space for ease in storage long-term as well.
Increased Flexibility
Renting your hangar locally in North Las Vegas also gives you some flexibility in terms of travel. As a city which doesn't experience much in the way of extreme weather, you can expect that for the majority of the year, you won't be faced with too harsh of inclement weather. This might make it easy for your inbound flight to get back into the city after traveling, or just provide ease in taking off and more flexibility in your ability to travel when you like or are required. As a popular travel destination, commercial flights to Las Vegas are frequent and generally inexpensive from most locations in the country and can offer any guests or passengers planning to travel private with you with the best and easiest option to get the trip started.
With so many benefits of renting a private, local airplane hangar in Las Vegas, it is hard to imagine doing it any other way. As a plane owner, it is important to protect such a large investment in the smartest ways possible, to increase any return on your investment that exists while also maintaining things with the best tools at your disposal. At Cheyenne Air Center, you can rent your hangar only 5 miles from the downtown area of Las Vegas, making it an extremely convenient location for travelers. Our hangar units come appointed with hot and cold water, insulation, finished floors, electric scissor doors, and easy access to the runways to get you where you are going quicker. No matter what size your aircraft, we have the space to accommodate - our hangar rental space ranges from 4,200 square feet to 13,750 square feet to ensure you have the room needed for your investment. Another great feature about renting with Cheyenne Air Center is the personal gate security access and parking spaces available. You can visit when you like and never have to worry about finding parking to store your vehicles during your trips out of town.
Ready to inquire about a space for your aircraft? Call our offices at Cheyenne Air Center today to learn more about how we can accommodate your needs for airplane hangar rentals in North Las Vegas. Not looking to rent? We offer spaces for sale for the long-term investor and would be happy to give you a tour of our available facilities. Visit us online to contact us directly as well.